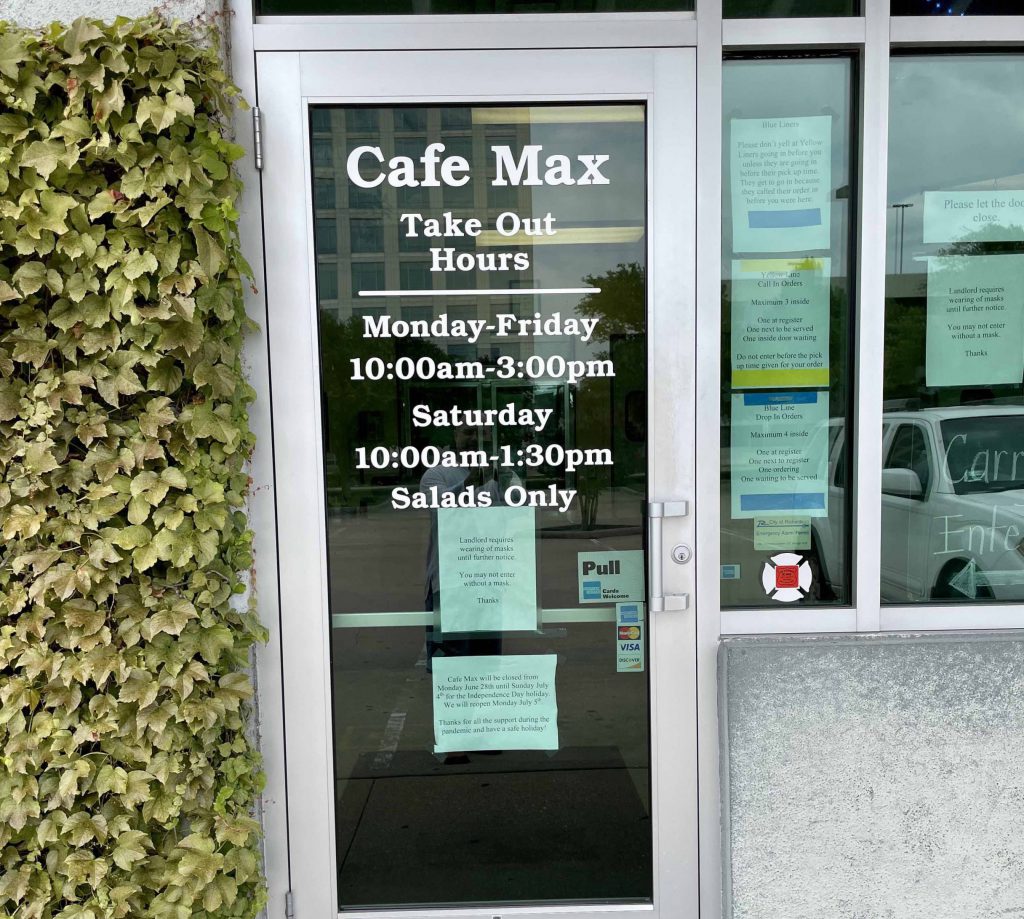 I was a customer of Cafe Max in Richardson, Texas since the early 1990s.  But not anymore.
It has been almost two years since I ordered my "Salad Sampler" from this once great lunchtime destination.  It seems that the owner is a COVID paranoid Social Justice Warrior who wants all patrons to continue to wear masks at his establishment, even though almost every other restaurant in area has come to their senses and dropped the ridiculous face diapers.  Cafe Max has become Cafe Marx.
While I am all in favor of businesses making their own decisions and maintaining the right to refuse service for ANY reason.  I am also for pointing out ridiculousness and only spending my money at establishments that do not continue to prolong pandemic stupidity.  These idiots won't even let you pick up an order if you don't have a mask.
I sincerely hope this is hurting Cafe Max's bottom line.  In an environment where so many small businesses have gone out of business due to government overreach, Richardson, Texas is one of the few areas in the world where the people and the government has come to its senses and returned to normal.  But not this marxist hold-out.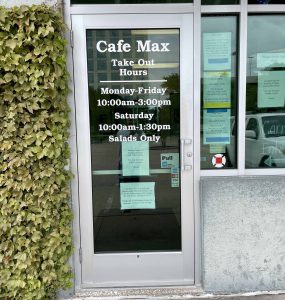 They use the bullsh!t excuse that it is a rule from their landlord.  Check out the sign on their door.   I am quite sure the entity that owns the building has a close relationship to the owner of Cafe Max.  It was a big deal when they moved from their original strip mall location into that new custom-built building over 20 years ago.
My entire family has now "Cancelled" Cafe Max for its marxist stupidity.  We have even learned to make their signature salads quite convincingly ourselves.  Check out this great recipe for Copycat Cafe Max Chicken Salad.
I usually don't like to wish ill on business owners, but you reap what you sow.  Cafe Max has had a very long run.  It is time to bring back capitalism and some new enterprises.
Let the best quiche survive.
UPDATE: 2023-08-25 – Cafe Max's bottom line has definitely been affected.  These days, Cafe Max is only servicing take-out customers.  Thankfully, masks are no longer required for take-out service.  However, a sign on the door says dining room closed due to inability to find serving staff.
My suspicion is Cafe Max drove away all of their inside dining patrons with their COVID stupidity over the past few years.  Now they cannot afford to pay serving staff.
Meanwhile, other restaurants in the nearby Richadson, Texas area are open for business.
Get woke, go broke.
About Post Author